DeleteMe
Required databases
DiversityCollection (see Databases for further information).
Range of functions
The Data Form tab sheet can be used to display and enter data. One can also use the Data Form tab sheet to page through selected records a single record at a time. Each of the data windows focuses on a different type of data. The data form displays fields relevant to the current window.
Das "CollectionForm" erlaubt die Verwaltung von Daten zur Beschreibung und Archivierung wissenschaftlicher Sammlungsbelege (Specimens) und wurde für Datenbanken angepasst, die zum Schema von DiversityCollection (V1) kompatibel sind. Das Formular ist zweigeteilt: der obere Teil dient der Darstellung von Bildern, vornehmlich Aufnahmen des Belegetiketts, der untere Teil dient der Dateneingabe und enthält 5 Tab-Sheets mit folgenden Unterformularen:
Collector, time and location
Geographic data
Identification
Miscellanous
Images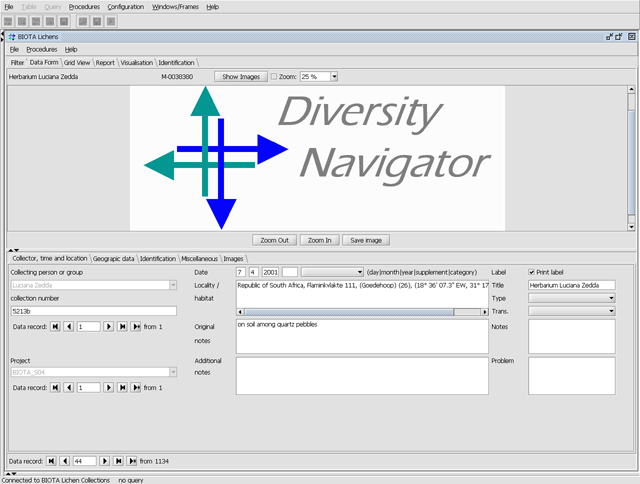 Collector, time and location

Geographic data
Identification

Miscellanous

Images

Versions
Example
Standalone - Applet - Plugin
| | |
| --- | --- |
| standalone | - |
| applet | - |
| plugin | + |
Download classes
---
Vielleicht sollten wir hier auch - wie beim Delta Editor - über einen treffenderen Namen nachdenken. Ich würde vorschlagen:
"DiversityCollection Editor" oder "DiversityCollection Form"
--JanIngenhaag, 05-Sep-2006
---
Wie genau sollten die Tab-Sheets beschrieben werden? Jeweils eine Tabelle mit Feldnamen und kurzer Beschreibung oder genügt ein Link zum Datenmodell? Was bedeuten die roten Felder?
--JanIngenhaag, 05-Sep-2006